Residential Carpet Cleaning
Professional Carpet Cleaning Services in Mission Viejo
Mission Carpet & Tile Cleaning in Mission Viejo knows that a healthy home starts with clean carpets. Nothing cleans more thoroughly or protects your investment better than the Mission steam cleaning method, also known as hot water extraction. Since 1987, Mission Viejo have relied on the professionals at Mission Carpet Cleaning to keep their carpets clean and free from harmful allergens and toxins.
Carpet Cleaning in the Mission Viejo Area
Mission's steam cleaning method cleans and removes stains from your carpet using our hot water extraction method. This method also allows us to remove dirt and allergens from the fibers of your carpet, leaving your carpet dry to the touch.
Mission's Service Packages
Mission offers three different service packages to choose from. You may also create your own level of service by selecting from any of the services features available. Create a service level that's just right for you and your budget too.
9-Step Premium Carpet Cleaning Services
6-Step Standard Carpet Cleaning Services
3-Step Economy Carpet Cleaning Services
Premium & Standard Steam Carpet Cleaning Services meet industry standards specified by most new carpet warranties. Every service includes the Mission's Service Guarantee. 
Steam Carpet Cleaning
Mission uses two steam cleaning methods to freshen and clean your carpets from pet odors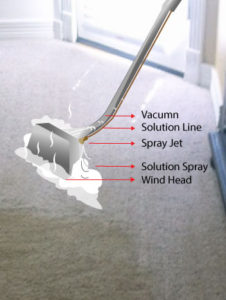 and stains: regular Steam Carpet Cleaning  and Dry-Steam Quick Dry Carpet Cleaning for heavily soiled carpets.  Our Steam Carpet Cleaning uses the hot water extraction method to remove stains, dirt and allergens from the fibers of your carpets. Our Dry-Steam Carpet Cleaning also uses hot water extraction, but it actually processes and extracts more hot water through the carpet, and cleans heavily soiled or stained areas and leaves your carpet dry to the touch.
If you need our carpet cleaning expertise, we are ready to assist you. We will pre-vacuum, pre-condition, and offer spot treatments so that your carpet looks as good as it did when you first bought it. Our Carpet Cleaning Services in the city of Mission Viejo steam extraction process is done by highly trained Professional Carpet Cleaning personal.
Our technicians know what type of cleaning products and supplies (Eco-friendly Carpet Cleaning)  should be used on each carpet or rug material. We will safely clean one room of carpet or an entire house or building full. We understand the importance of having clean and deodorized carpets while using the most powerful steam cleaning machines to to help your building look its best. Backed by our 30-day, 100% Clean Carpet Guarantee  you can feel confident the Mission Carpet & Tile Cleaning of Mission Viejo is the best selection for your carpet cleaning needs. When you add it all up we can deliver the lowest Carpet Cleaning Services Prices in all of the Mission Viejo and Orange County area and Mission will provide the Highest quality & most cost effective carpet cleaning experience!
Additional Carpet Cleaning Services
Maintaining your carpets means more than simple cleaning. When it comes to tricky issues such as stain removal, pet odor, and carpet repair, Pacific offers additional services to help you clean and maintain your carpet and extend its life.
Carpet Cleaning Benefits
Environmental studies indicate that indoor air quality can actually be up to 100 times worse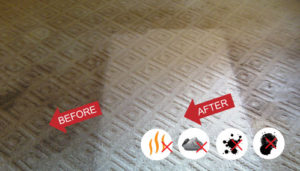 than outdoor air quality. Breathing contaminated air can be especially harmful to babies, elders, and people with respiratory and allergy issues. When combined with regular vacuuming, professional steam cleaning can ensure that your home is free from air borne contaminants that can cause health problems for your family.
Contact Mission Today!
Mission's residential and commercial cleaning and restoration services are second to none. Contact us to book our steam carpet cleaning services in our Mission Viejo area to maintain and improve the beauty of your carpets. Or try our easy and convenient 4-step online order system to custom build your order, book your appointment and get a free quote for our services.
Mission Carpet & Tile Cleaning is known as one of Mission Viejo's most experienced and trusted carpet cleaners. We understand that your carpet is one of the largest investments you'll make in your home. It is also regularly exposed to dirt, stains, and the wear and tear of daily use. Plus it can harbor allergy causing contaminants and dust mites that you can't see, but that get deep into the carpet fibers.
This is the dirt that surface cleaning just can't eliminate. In fact, your carpet collects more dirt than you realize: it traps and holds smoke, heating fumes, oil from cooking, as well as dust, pollen and bacteria. It's actually this dirt, not just daily wear, that erodes carpeting and shortens the life of all types of fibers. Many types of cleaning products such as detergents, shampoos, and foams can be messy and actually damage your carpet fiber, potentially voiding your manufacturers warranty. Only deep, professional cleaning by certified technicians can preserve the life and beauty of your carpeted floors. No one can clean and protect your carpet like Dirt Free. We spot clean, and treat any problem area where there is heavy foot traffic, pet stains and odor. We use our special truck powered vacuum system along with our special restructured water to deep steam clean and revitalize your carpet.
Our unique and patented truck-mounted steam cleaning process ensures that there are no chemical residues left behind. We have also been able to reduce the dry time after cleaning to half of the time of our closest competitor. Dirt free technicians will always pre-test the dirtiest area of your carpeting to insure you will be happy with the end result. There is never any type of charge for pre-testing, and Mission Carpet guarantees your satisfaction. They will also pre-treat and spot clean problem areas with an all natural pre-spray to remove stubborn soil and stains left from spills. Call today and take advantage of one of our many carpet cleaning specials.